Yes, we're all pumped about the potential of OpenAI's ChatGPT service and are blown away by its capabilities. However, just because it's the hot new thing does not mean that you should race to use it on everything you can. In this article we're going to briefly cover three things you can/should use GhatGPT for in your dental marketing, and three things you should NOT.
How to incorporate ChatGPT in Your Dental Marketing Right Now
Social Media Posts
One of the most difficult things for dental practices to do in their social media marketing is simply coming up with post ideas and writing copy for them. This is a fantastic use for ChatGPT. You can literally say something like "Write 10 facebook posts for this month including things like, why we love Dallas so much, healthy smile ideas, patient appreciation, and upcoming special events. Write them in a friendly, engaging voice."
This is the screenshot of the list it generated. Amazing!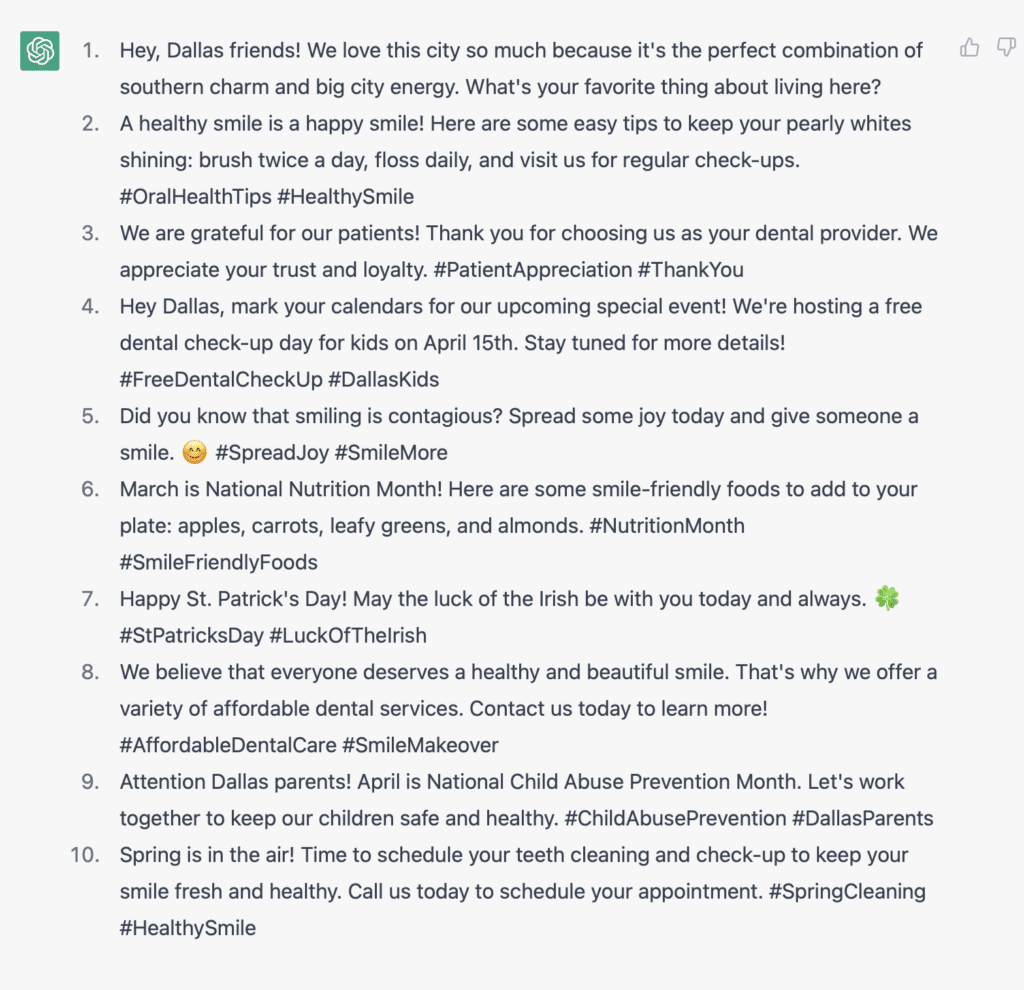 Newsletter Writing
A monthly newsletter is a wonderful way to regularly reach out and touch your patients. Some people stop going to a place of business (like a dental practice) simply because they haven't heard from the business in a while and therefore assume the business doesn't care about them.
In less than 30 seconds ChatGPT can kick you out a fantastic newsletter in your own customized voice to send to your patient base. This is a great use of the tool because the text in your newsletter will not be indexed (see the "Do Not Use" section below for additional info on this) and it can save you several hours over the course of a year.
Create Outlines
A smart way to leverage ChatGPT is to create outlines for page content. If you know anything about search engine optimization, you know how important long form, custom-written copy is to your website. One of the more difficult aspects of writing this content is formulating a plan for what you are going to write. ChatGPT can give you a list of suggested topics to write about AND THEN produce a solid outline for each page you are going to write. Which, actually is a good segue into our next section-
Do NOT Use ChatGPT for These Aspects of Your Dental Marketing Right Now
Copy for Your Dental Website
Getting ideas for topics and outlines is one thing. But do NOT use ChatGPT to write the copy for your website. No matter how tempting it is. Search Engines have established a pattern of sniffing out manipulation techniques and then squashing them for over twenty years now. If you have ever been on the receiving end of the Google boot (algorithm update), you know the risks. There are already AI recognition tools that spot AI generated written content. Don't gamble on this one. Do things the right way and have a human write unique, quality content for your practice's website.
As the Chatbot for Your Practice
Chatbots are a wonderful tool to use on your dental practice website, especially during after hours. However, one of their great features is that you can control what they say and limit their interaction options. ChatGPT is a remarkably robust and creative chat platform. You probably don't want a bot speaking on behalf of your practice that you cannot completely control.
SEO
Most people don't realize how time consuming SEO research and planning is. It can take hours to do the research, identify opportunities, and then pick strategic keywords for a single page on your website — not to mention the laborious process of then actually writing and publishing said content. ChatGPT may seem to have nearly eliminated the time spent on these efforts, but pump the brakes! As of right now, the service can only access pre 2022 data and even if it did have access to newer data, it would still be limited to readily available data. SEO tools don't just give that data out for free. The moral of the story? ChatGPT can give you ideas and clues but not hard data to base your SEO efforts on.
SUMMARY
ChatGPT is an impressive, fun, and useful tool. But it is not a replacement for real research and truly original content. Suggestions or outputs it generates are based on what it can find that's already out there. In short, it's great for getting ideas and producing content that does not need to be unique. But when originality and authority is being scored (like search engines do), it's best to use the even more impressive supercomputer you carry between your ears.