Book Promise & Features
Clarity
Finally understand how to grasp the constantly shifting landscape of dental marketing.
Guidance
Confidently pick the marketing tactics that will work best for your practice.
Plan
Fill out the included planning tools to harness the power of a dangerous marketing plan.
Hard copy: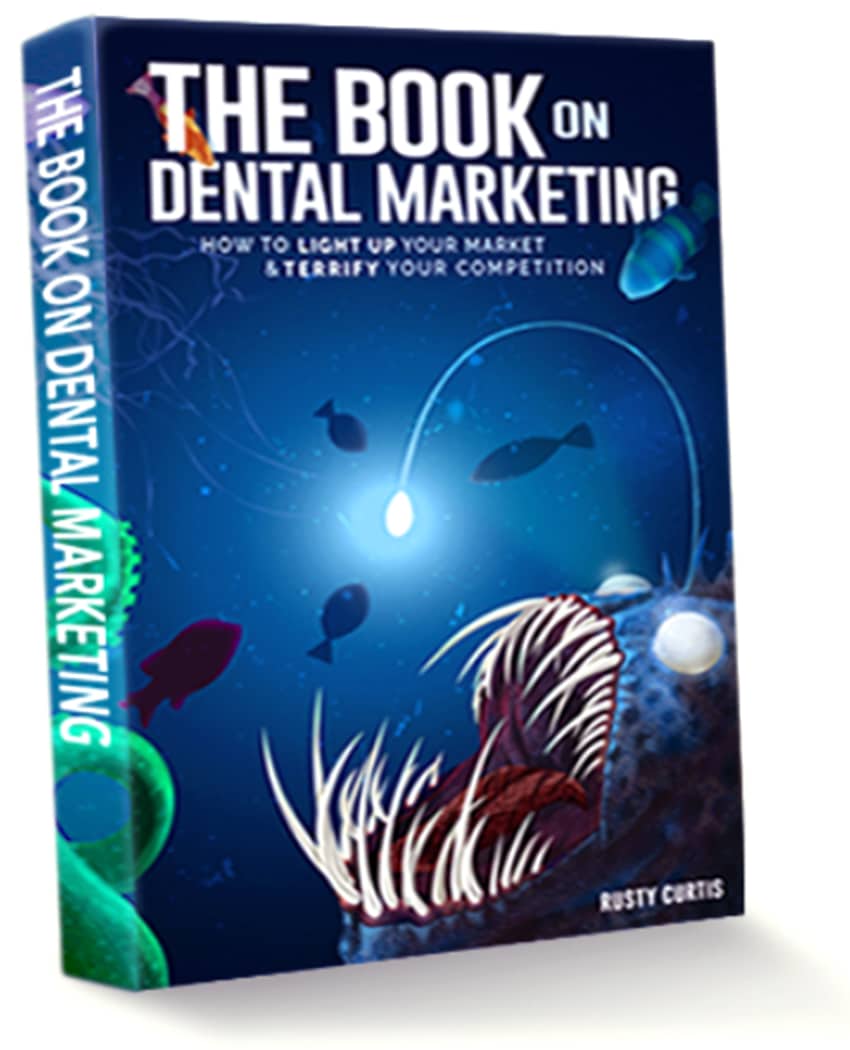 Sold Out
$149
Digital Bundle
(ebook & audiobook):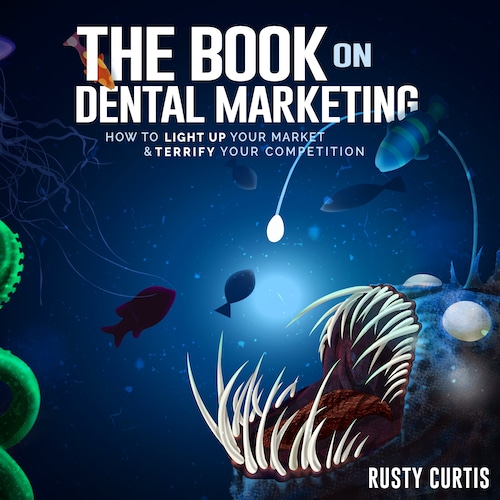 Buy Here
$119
Testimonials
The Book on Dental Marketing is a straightforward, fun overview of marketing applied through the lens of one of the great dental marketing minds, Rusty Curtis. Rusty applies his uncanny grasp of marketing and the dental industry, combining them in an engaging educational experience that anyone in dentistry can learn from. Typically complicated (and boring) marketing concepts are distilled down into actionable concepts complete with pleasing visuals, anecdotes and worksheets. While the book makes marketing accessible to anyone in the dental field, it is amazingly comprehensive in its scope. Rusty has created a book that I believe every dentist should read.

Dr. Bryan Laskin (Minnesota)
Easy to read and packed with insight, this carefully designed book provides a solid roadmap for all dentists who are working to piece together a comprehensive Marketing plan. The Book on Dental Marketing will be the industry's gold standard for years to come.

Dr. Ed White (Pennsylvania)
Marketing advice I have heard in the past has been piecemeal and frankly uninspiring. Dentists are trained to cast a wide net and hope patients show up. But The Book on Dental Marketing provides dentists with a comprehensive overview of marketing, sales, and the science behind human decision making. Rusty uses his expert insight and quick wit to teach us how to be more intentional with our marketing efforts and how we can greatly increase the efficiency of each dollar and minute that goes into marketing our practices. This book gave me the tools to grow the practice I have into the practice of my dreams!

Dr. Erin Beveridge (California)
Rusty uses his irreverent sense of humor and in depth experience in the dental marketing world to deliver a power punch of knowledge and experience. The Book on Dental Marketing carries light-hearted illustrations, stories, and graphics which belie a well developed approach to the serious business of marketing a dental practice. I was impressed with the wide appeal. So much so that for days my front desk and I continued to repeat a joke from the book since I couldn't resist sharing the story, the punch line, AND the lesson that accompanied it. If you are looking for a tasteful blend of up-to-date marketing principles slow cooked with hands-on experience and seasoned with just the right amount of humor and humility, then you have found a tasty meal of a book. First time seekers of dental marketing guidance – who start their journey with this book – will probably not yet recognize or appreciate how well Rusty has blended together so much valuable guidance and marketing expertise into one resource. Can't wait to buy a copy for each team member!

Dr. Justin Cook (Utah)
The Book on Dental Marketing is THE definitive guide to comprehensive marketing for the modern dental office. It has vastly improved the way we promote our practice in today's digital landscape.

Dr. Ross Enfinger (Florida)
I seriously wish I had The Book on Dental Marketing earlier so I wouldn't have felt so overwhelmed and bogged down by the infinite details of owning a practice. When I first opened my start-up dental practice, I spent countless hours of time sifting through numerous Facebook dental groups, pages, and posts just for the chance of finding any pearls of wisdom to grow my dental practice. This book organizes & provides a straight forward approach to everything you need for your dental practice from branding to marketing. Even after years of ownership, this book made me realize that my dental practice still had some glaring oversights that requires immediate improvement. Honestly, it doesn't matter what stage of ownership, this book will provide a significant ROI.

Dr. Quyen Lee (Texas)
Need help lighting up your market?
Check out DentalCMO