Have you seen any good CEREC treatment videos lately? We have. In fact, we have a few clients who have really good CEREC treatment videos.
A doctor's ability to provide a same-day crown is a big deal. CAD/CAM technology has really shortened the time it takes to produce a new crown. Patients love it; they go home with a new tooth in a single visit. But dentists need to do a better job communicating the benefits of same day crowns. These systems are not cheap. Dentists who want to recoup their (significant) investment sooner than later need to attract new CEREC cases. Attracting new CEREC cases begins with CEREC treatment videos.
CEREC Treatment Videos for the Win!
If a picture is worth 1,000 words, what's a video worth? A whopping 1.8 million words per minute, according to Forester Research. That's incredible value.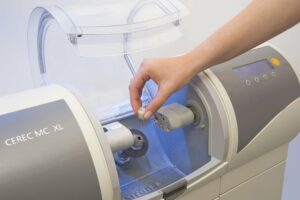 Talking about same day crowns is one thing. Adding a photo of crown mill is better. But, showing how a CAD/CAM system works and explaining its benefits in a treatment video is quite another. How much more powerful is it to watch and listen to a video clip of a dentist communicating knowledge and enthusiasm for same day crowns? CEREC treatment videos create greater credibility for the dentist and build trust faster with patients (and prospective patients).
Here are some of our favorite examples that we have produced recently for our clients:
Dr. Brian Harris in Phoenix, Arizona has a beautiful, benefit-filled CEREC treatment video. His knowledge, skill and expertise in creating and placing same-day crowns is immediately evident:
2. Dr. Dan Sheridan, in Saginaw, Michigan, just produced a CEREC treatment video as well. His expertise in cosmetic dentistry shines through as he discusses how technology helps him create a better final product for his patients:
Dr. Dankworth at La Costa Dental Excellence in Carlsbad, California, lets her enthusiasm show in her CEREC treatment video:
Are you a dentist who has made a significant investment in a CAD/CAM system? Are you wondering how to get the word out about it and recoup your investment faster? CEREC treatment videos can get the job done for you.
Creating these videos and adding them to your website is the first step. Learning how to get the right people to see your videos is the topic of our next blog.