"Mobile friendly" is everything these days, because smartphones have become the preferred method for accessing the Web.
If your website is at least three years old you might be missing out on new revenue. The shift to mobile devices as the preferred method for accessing the Internet happened in 2014. That shift has only picked up steam since then.
Is your current practice web site mobile friendly?
If you don't know if your site is mobile friendly or not, how can you tell?
Just enter your url into the browser on your smartphone. If the website appears on your small screen exactly the way it does on your computer screen, your site is NOT mobile friendly. If that's the case, you need to get a mobile friendly site in place – quickly!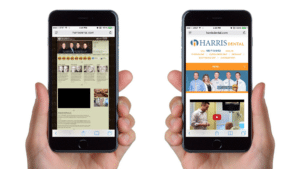 According to PewInternet.org, mobile Internet use surpassed desktop or laptop-based Internet use in 2014. A recent Google survey found that 61% of websites visitors will leave immediately if the site is not mobile friendly!
Here is the first of three reasons your practice must have a mobile-friendly website now!
#1 Customers Want and Expect an Easy Mobile Experience
Your customers are not sitting front of desktops or laptop computers! They're on the go, accessing your website from mobile devices. They expect easy visibility, easy navigation and click-to-call. If they don't get it from you they'll get it from another practice.
It's important to note that if your existing website is not mobile friendly, there's no amount of tweaks or plugins or adjustments you can make to it. You simply need a new website that will appear properly on desktops, laptops, tablets or smartphones. These are called "Responsive Websites."
Responsive websites work better, they give the people what they want, and they convert more visitors into cases.
Next week we will provide reasons #2 and #2 why your practice must have a mobile-friendly website now!