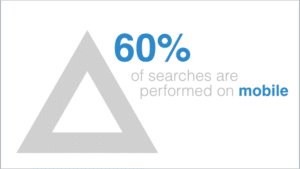 MOBILE SEARCH IS PAST THE TIPPING POINT; MOBILE VIDEO CONTINUES TO CLIMB.
Pay attention: Mobile and video are the two most important words to know for 2017.
Our friends at Search Engine Land tell us that the majority of Internet searches are now on mobile devices. Specifically, 68% of searches for health-related topics are done on mobile devices.
Mobile video consumption continues to increase. Viewers watched more video on mobile devices in 2015 than on computers, and those numbers only increased in 2016. Customers and prospective customers are looking for you on their mobile phones, and they expect to find video. When they look for you, what do they find?
If your practice's website is not mobile-responsive (meaning it does not automatically adjust itself to appear properly no matter the size of the viewer's screen) prospective customers will bail out on it almost immediately.
If you are not providing welcome videos or patient testimonial videos or treatment videos, you're missing out on a high-converting tool.
Check out Dr. Tommy Nabor's new welcome video, along with his personal testimonial about how easy and fun it was to create his new videos.
Prospective and existing customers are expecting mobile-responsiveness and mobile-friendly video. The shift in expectation continues to grow.