We know it's been a long awaited update.. And it's FINALLY HERE! You will now be able to schedule and publish your Instagram Reels directly from your Engager dashboard. 🙌
Up until now, Facebook Meta has not allowed any Reels to be published through any third-party tools. In the past, this meant that you had to plan your Reel content strategy off of your Engager tool.
With the new emphasis and importance of short form videos across social platforms, Reels are an incredible way to bring in new followers. For those who haven't heard of Reels yet, they are Instagram's new way of sharing/promoting short form videos. When you post a Reel, instead of sharing the content with your current audience, Instagram shares it with those who they deem will be interested in and enjoy your content. These videos appear on a new, highly used tab called "Explore". And yes – they do this free of charge. This new social media trend is an amazing opportunity to get your practice's message and brand in front of potential patients.
Now you can use Engager to streamline your social media efforts by scheduling out your Reels.
New Feature! Instagram Reels Publishing! 🥳
This update will allow you to:
⏳Save time by scheduling Reels in advance
💪 Ensure that your posts are published exactly when you want them while being "hands off"
📝Publish your Instagram Reels directly from your desktop!
⚡️ How to schedule your Reels on Engager ⚡️
To schedule Reels through your Engager Dashboard, all you need to do is:
1. Open your Compose Box and upload the short video you would like to use as a Reel.
2. Choose 'Reel' under 'Post video as:'. (If you want the Reel to appear in your feed, make sure that 'Also share to feed' is checked.)
3. Finally, choose a publishing time and hit Send or Schedule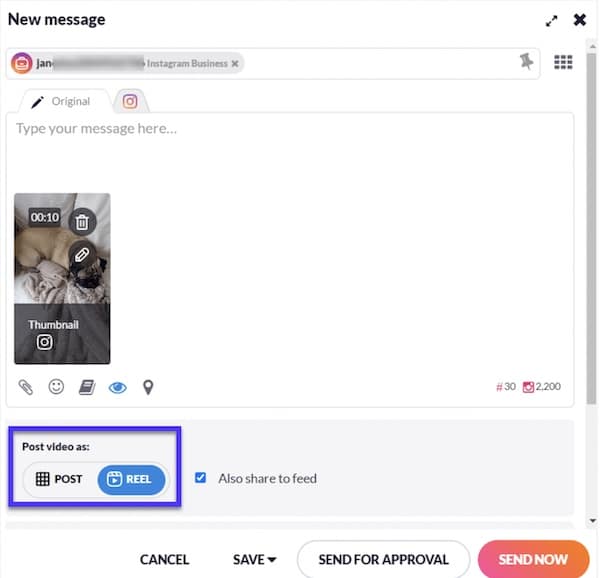 Along with the capability to autopost Reels in Engager, you will now have the ability to see any incoming comments or engagement. You can also view your report on your Reel performance in Engager.
💭 You can still use the Instagram Reminder feature for these things
The Instagram Reminder feature in Engager should still be used for scheduling out any Stories (hopefully that update will be coming soon with Meta's permission), or if you want to add any trending audio to your Reels!
🤔 Have any questions?
Our ultimate goal is to make your lives as social media managers as easy as possible so that you can focus on creating quality content. If you have any questions or feature requests, please reach out to your point of contact!