Smartphones have become the preferred method for online everything.
If your practice website is at least three years old – you might be missing out on new cases (and revenue). The shift to mobile devices as the preferred method for accessing the Internet happened in 2014, and has only picked up steam since then.
We've already explained Reason #1 and Reason #2 why your practice web site must be mobile friendly. Today, we present the third of three reasons your practice must have a mobile-friendly website now!
You Appear "Out-dated" if your Practice Website is not Mobile Friendly
Consumers form opinions quickly. They expect to see modern, easy-to-read and easy-to-navigate, mobile friendly websites when they search for you on their mobile devices.  They just don't have the patience for anything else. They are forming negative opinions about your practice and your ability to provide quality dental services to them if your practice website doesn't appear properly on a smartphone. To remind you, 61% of smartphone users will bail out on your practice website as soon as they realize it is not mobile friendly. With that negative opinion in mind, they are unlikely to give you a second chance.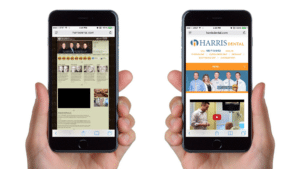 You'll Lose Business (If You Haven't Already)
If your practice website is not mobile friendly, you have probably already seen a decline in the number of new patients reaching out to you. If this is happening you've got to go mobile friendly immediately. As we explained earlier this week, Google penalizes sites that are not mobile friendly. They may have already booted you from the search listings in favor of other dental practices with mobile friendly websites! You've got to give customers – and Google – what they want! Give them a streamlined, mobile-appropriate experience on their smartphones.
Other Website Must-Haves
Beyond being mobile-friendly, do you know if your practice website is optimized to get you the right kind of traffic and attract new patients? Find out. Click here to download the informational one-sheet, "5 Capabilities Your Practice's Website Must Have in 2017."