Positive online reviews are not just important – they are super important to your dental practice's growth and success.
Positive online reviews for a dental practice are increasingly important in today's online world.
People searching for a dentist – or dental services – can decide to go with you or avoid you entirely, based on what other people say about you online. A recent survey from Zendesk found that 90% of respondents claimed that positive reviews affected their purchasing decisions. 86% said that negative reviews were also an influencer. In other words, reviews matter when a would-be patient decides to come to your dental practice.
So how to you get good reviews to appear on Google?
These five easy steps will help!
Search for your dental practice by name in Google
When your map listing comes up, click on the button that says, "Write a Review." If your practice does not show up as a map listing when searching for it by name, you've got bigger problems! Call us and we'll direct you to one of our partner companies who can get you showing up on Google.
When the Google review box pops up, copy the URL
Shorten the review URL by pasting it into Google's URL shortener here: https://goo.gl/
Send an email to your patients (include the shortened review link in your email) and ask them to post a review of your practice.
Be sure to express your own appreciate to them for their business! When you tell them how much they mean to you, they are more likely to write a positive review.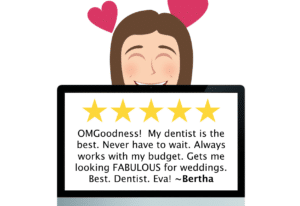 Following these five easy steps will help you accumulate a growing number of positive reviews. Google will then feature those reviews front and center when prospective patients are looking for you!