Do dental patients consider the quality of a logo when choosing a dentist ?
Dental patients absolutely do.
Rusty Curtis, CEO of DentalCMO, took to the streets to find out for himself. Armed with two logos, Rusty asked passers-by which dentist they would choose, based only on the visual information he provided. People responded unanimously, preferring one dentists over another – for the logo alone! Why?
Watch the video below to see how it all went down.
The Great Dental Patient Logo Experiment
The Reveal
Did you notice at the end when Rusty held up both logos? Particularly, that both logos were for the same dentist? Because after all, this was a before-and-after experiment to show how quickly superior visuals can impact the decision making process.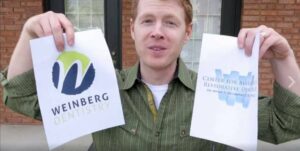 Why dental patients preferred the winning logo:
Did you notice the reasons why dental patients prefer the winning logo?
Dental Patient #1: "Logo's a lot more catching – my eye just goes to it a lot quicker."
Dental Patient #2: "My eyes are drawn to that one."
Dental Patient #3: "I can tell the design's a little more thought-out, a little more modern. [The other logo] seems like it's from the 90's."
Dental Patient #4: "Better colors"
Dental Patient #5: "It just sticks out."
Dental Patient #6: "It's just more clear"
Dental Patient #7: "It's more simple. This [the other logo], it's like what is that even saying?"
Dental Patient #8: "It looks so much more professional."
Dental Patient #9: "I feel safer. The colors. The other one, I don't know, it just seems very boring. Dated. I wouldn't trust them."
Dental Patient #10: "It's bright, it's vibrant, it just caught my attention more."
Dental Patient #11: "It just looks cleaner and more appealing."
Dental Patient #12: "It's just more catchy."
How are dental patients judging you?
Dental patients clearly make assumptions and judgments about your practice based on your logo. Which is something a dentist might ordinarily consider to be a minor thing. But as Rusty says at the end of the video, "If your branding is buttoned-up, people assume your dentistry is buttoned-up as well."
How are people judging your logo? Give Boyd a call at 385-312-0016 to discuss the creation of a new, winning logo for your practice.